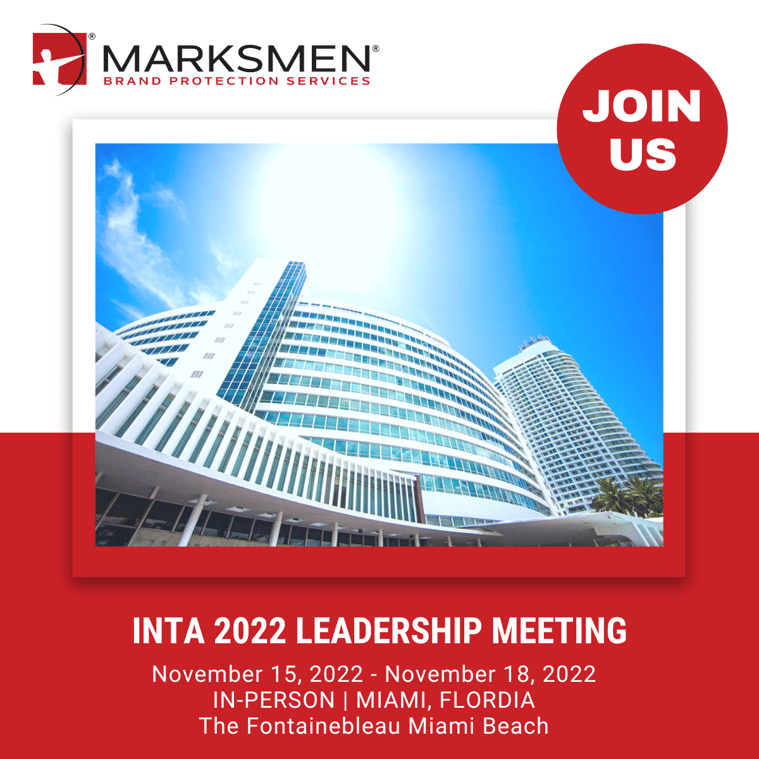 Marksmen announces CEO Jeff Crapo and Director of Client Relations Jackie McMahon will attend the 2022 INTA (International Trademark Association) Leadership Meeting in Miami, Florida in November.
The INTA Leadership Meeting will take place from November 14-November 18, 2022 at the Fontainebleau Miami Beach, a sophisticated resort steeped in local history.
More than 1,400 registrants will be assembling in Miami for the announcement of the Board Class of 2023–2025, the Service Awards Winners Ceremonies, and the chance to influence the direction of INTA through committee work.
As with years past, the program includes a variety of speakers from around the world and focuses on insight, ideas, and inspiration for leaders in the brand protection, intellectual property, and trademark law space. The educational curriculum for 2022 examines important subjects and emerging issues, ranging from promoting an inclusive workplace to exploring outer space. Additionally, INTA Leadership Meeting attendees can hone their leadership abilities through carefully crafted Bootcamps, Leadership Labs, and more, including beach sports with colleagues.
All committee meetings will take place in person at the 2022 INTA Leadership Meeting. To attend your committee meeting, you must be registered for the Meeting.
To learn more information about registration, travel, or the INTA Leadership Meeting program of events, please visit the INTA Leadership Meeting 2022 event website.
About us: Marksmen is a world leader in brand protection services, including trademark investigations, on-site investigations, IP and domain name acquisitions, test purchases, and online brand protection research.