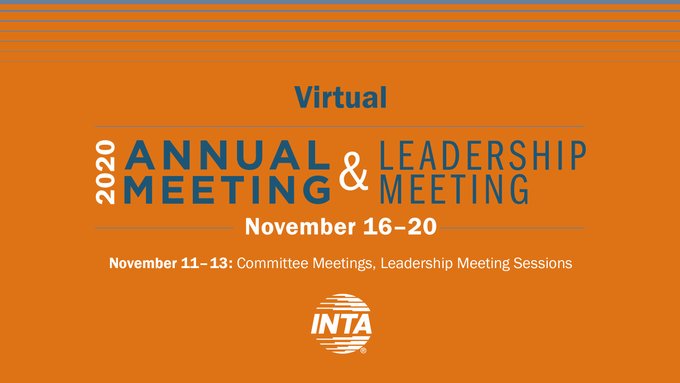 Marksmen, Inc, the world leader in brand protection services, will attend the International Trademark Association (INTA) first ever virtual annual meeting, happening this November 16-20.
Opening Ceremonies will take place on November 16, 2020. Speakers from INTA include Etienne Sanz de Acedo, INTA CEO, and Ayala Deutsch, NBA Properties, Inc., INTA President.
Keynote speakers for this year's event, announced today, are Daren Tang, incoming Director General of the World Intellectual Property Organization (WIPO), and Duncan Wardle, Former VP of Innovation & Creativity at The Walt Disney Company.
According to INTA, the virtual event boasts opportunities for innovation, flexibility, and connecting with our global community, as well as access to educational, networking, and social opportunities in various time zones. In addition, there will be an Exhibit Hall where you can interact with exhibitors, learn about their services, and schedule time to discuss in more detail.
Registrants for this year's meeting including IP and brand protection professionals from Fortune 500 companies, international law firms, and government officials from various jurisdictions.
Highlights of the 2020 Annual Meeting & Leadership include significantly reduced fees, packages for multiple registrations from the same organization, an AI-powered matchmaking and appointment system, live and on-demand educational and networking sessions, and content-specific tracks to free up schedules for networking with global colleagues and exhibitors, and extending opportunities to learn and connect during and beyond the set meeting period.
Some of the topics for this year's sessions include Branding in the Age of Social Media and the Impact of Consumer Brand Empowerment, Fake Stores: The Growing Trend in Counterfeiting and How to Combat It, and New Trends in IPR Enforcement in China to name a few.
Sessions will be presented in live, simulated live (a.k.a. simulive), and on-demand formats. Simulive gives the audience pre-recorded presentations plus live interactions with speakers through the Q&A chat function during a session.
"We strongly encourage you to approach this virtual meeting as you would an in-person meeting," says INTA.
Most sessions will also be available for CLE credits and CPD points and should far exceed the number of annual credits required to meet your respective jurisdiction's requirements.
INTA will be using Zoom for some educational sessions and meetings. The organization takes the security of events very seriously and encourages you to learn about the recent security updates Zoom has made to its platform.
Fees are 32 percent lower this year than the typical Annual Meeting fee, and 62 percent less than the typical Annual Meeting and Leadership Meeting combined. Registration includes access to all events and digital meeting materials.
Get a sneak peek of the new virtual platform on INTA's website.