Marksmen, a worldwide leader in brand protection, was once again voted as "highly recommended," and listed in the top position in the Online Brand Enforcement category in the 2021 edition of the World Trademark Review 1000. Marksmen has now received this designation three years in a row, beginning with the initial publication of the service providers guide in 2019 by World Trademark Review.
For over 23 years, Marksmen has been an industry leader in intellectual property investigations, acquisitions and other brand protection services. From trademark "use" investigations, to test purchases, on-site investigations, domain name acquisitions and online brand-monitoring, companies around the globe rely on Marksmen as a partner in protecting intellectual property.
Marksmen has completed over 100,000 intellectual property cases since 1998, including the acquisitions and protection of some the most famous brands in the world that you know and use every day. "Over 1.5 billion people actively use domain names, social media handles, trademarks, and other intellectual property secured by Marksmen," says Jeff Crapo, Marksmen's CEO. "In fact, many of our client's call us their "secret weapon" for brand protection," he continued. "We are pleased to receive the "highly recommended" designation from industry experts."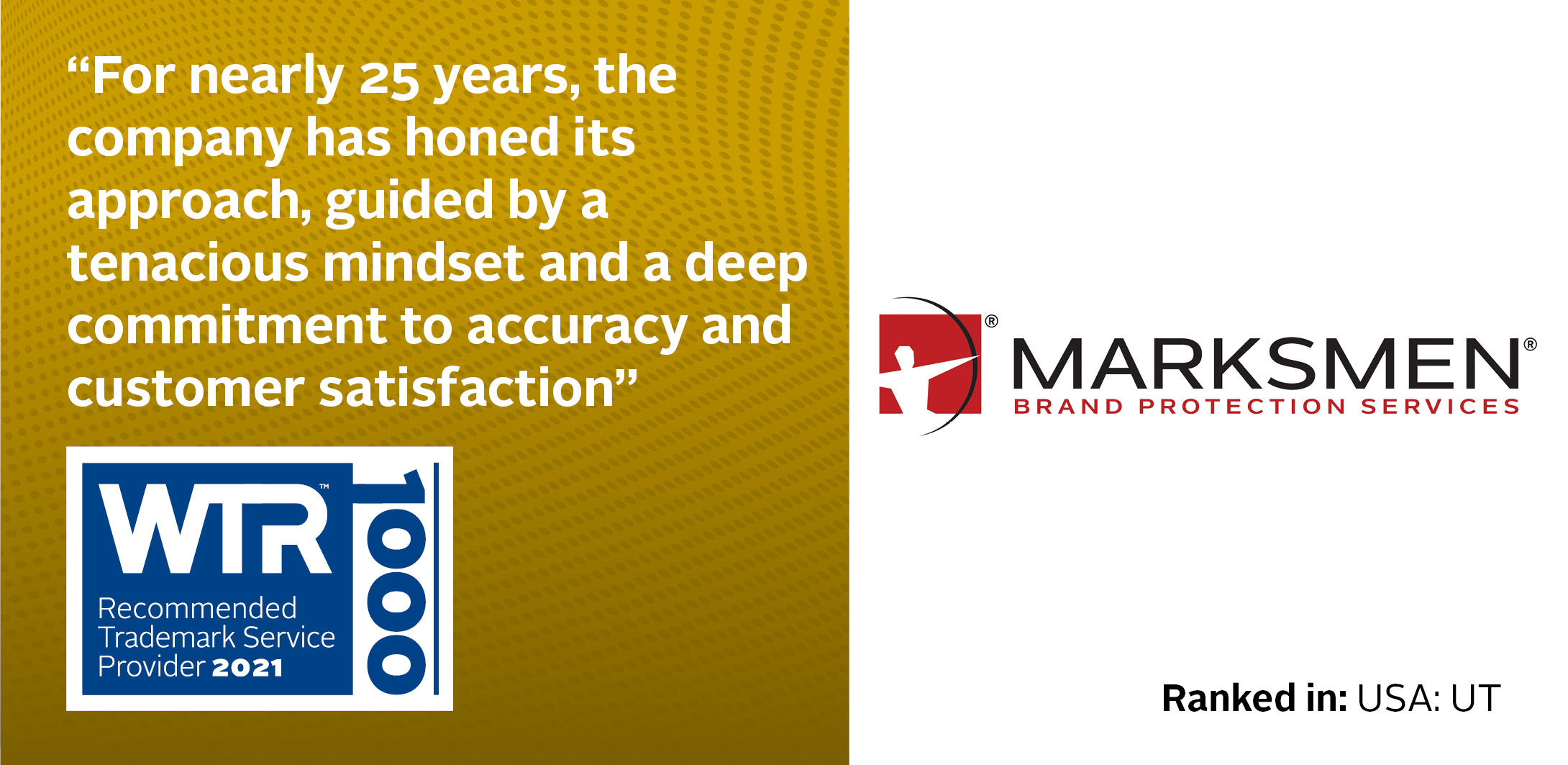 To create this resource, as in year's past, extensive qualitative research was done by WTR to identify leading firms and service providers. Over 1,500 industry experts, including corporate counsel and trademark attorneys. Individual practitioners, law firms and trademark attorney practices qualify for inclusion in the WTR 1000 solely on receiving sufficient positive feedback from market sources. The extensive research process was conducted over a four-month period by a team of full-time analysts and involved over 1,500 face-to-face and telephone interviews with trademark specialists across the globe. The publication therefore serves as a one-stop source of reference for anyone seeking trademark legal services.
About Marksmen:
Founded in 1998, Marksmen is a world leader in IP protection services, including trademark clearance and enforcement investigations, worldwide on-site investigations, test purchases, IP and domain name acquisitions, as well as online brand enforcement and brand protection research.
About the WTR 1000:
The WTR 1000 is the only definitive guide exclusively dedicated to identifying the world's leading trademark legal services providers. Through an extensive research process conducted by a team of highly qualified, full-time analysts, the publication identifies the leading trademark law firms and individuals in over 80 global jurisdictions and US states.
About World Trademark Review:
World Trademark Review is the only dedicated intelligence platform that provides unique insight for trademark professionals internationally. Universally acknowledged for unrivaled coverage of breaking developments and its role in supporting strategic decision making, World Trademark Review's intuitive platform provides a 360-degree view on how to manage and exploit key legal and commercial assets.