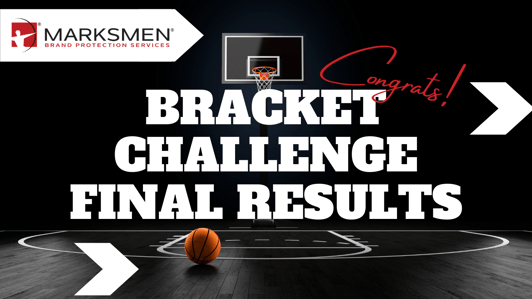 It's official. Baylor University Bears are the 2021 National Champions!
We are pleased to announce the Top 5 finalists in our First Annual Marksmen Bracket Challenge:
jmacattack
LawMan
Hook Em
Shore-Sirotin
Bracket Master
In addition, a big shout out goes to some of our "special" category winners: SSchwartz2 for coming in dead last, ¯\_(ツ)_/¯ for the most clever bracket name, and Lucky Leprechaun for being as close to dead center as possible.
Thank you to everyone who participated! We hope you will all join us again next year.
Check out how your bracket faired against the competition. Here is the final leaderboard in the Marksmen Bracket Challenge.
The tournament provided many twists and turns, with big name brands falling to lower-seeded foes. Don't put your brand protection needs at risk.
Trust Marksmen to get in the game for your brand. From Indianapolis to Indonesia, we've got the opposition covered with our on-site or online investigations.
Not to mention, we have over 23 years of brand protection experience under our jerseys. We know a few things that help our clients on and off the court – room, that is.
Need a brand protection MVP to get in the game for your brand? Put Marksmen in the game.
Check out our latest white paper on the sports industry and brand protection: How Marksmen Helps: Sports and IP.
Let Marksmen be your MVP when it comes to brand protection. Contact us today!
About Marksmen: Founded in 1998, Marksmen is a world leader in IP protection services, including trademark clearance and enforcement investigations, worldwide on-site investigations, test purchases, IP and domain name acquisitions, as well as online brand enforcement and brand protection research. On the home court, or abroad, Marksmen is your brand protection MVP.